specializing in web sites for psychologists, MDs, dentists, other health professionals; lawyers; CPAs; scientists; tutors; writers; consultants; campaigners; and providers of online learning and CE
Sound Bite from Dr. Goldberg:
Enter e-mail address in the box, then click on "Please tell a friend," and sign it.
Private Site with helpful advice for our Clients. (Password is in contract.)
Web Site ?Copyright 2001-2008 by Carol Goldberg, Ph.D. Web Sites and Sound Bites
?
is a Registered Service Mark and Catalyst Coaching SM is a Service Mark filed with the U.S. Patent and Trademark Office. All rights reserved.
As these 20 samples of our work show, our web sites are unique.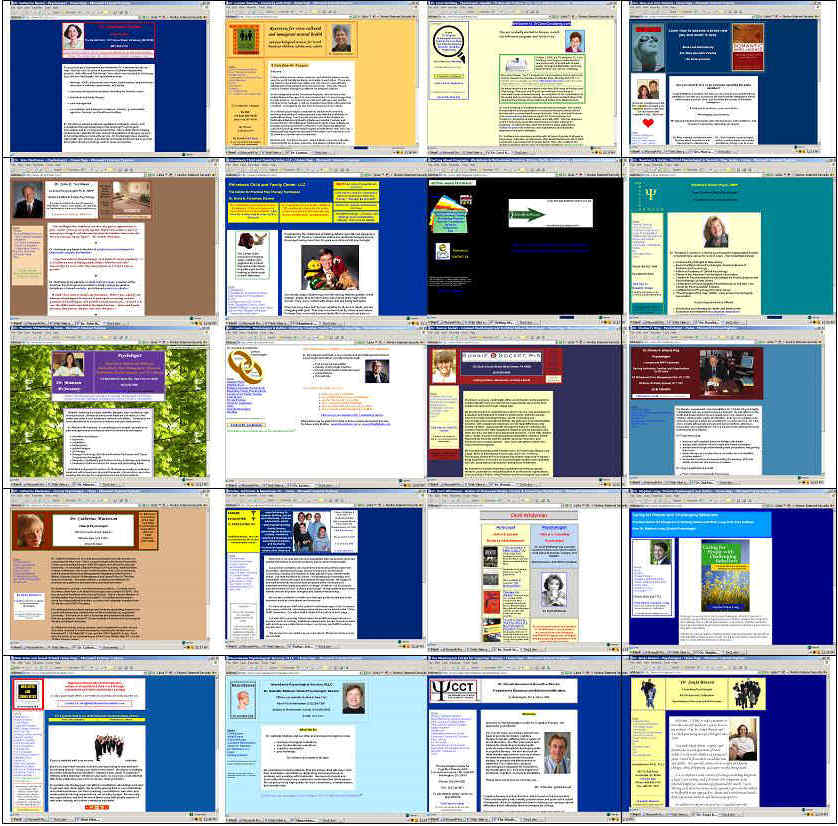 Click here to see entire web sites for the above home pages.
What makes our web sites uniquely yours?
designed from a blank screen (not a template with inflexible page geography and limited fill-in-the-boxes)
understand your work, market, and appeal to target audiences (beyond techies' capability)

your own site (not shared with competitors or third-parties that could cheapen your presentation and carry liability)

your own domain name (not third-party ad with you as appendage)

easy to navigate, communicate clearly, and grow with your work

written for you with Internet expertise...effective and time saving

liveliness from conveying your passion for your work, aesthetics, and relevant audio and video of you (not distracting animations)

options include logos, slogans, search engine submissions, and using results from the included traffic reports to fine-tune work

access to advice on private web site for our clients only

expertise and reliability of a licensed professional you can talk with (not anonymous techie you can only contact online)
You are unique. Your work is unique. Your web site should be unique.